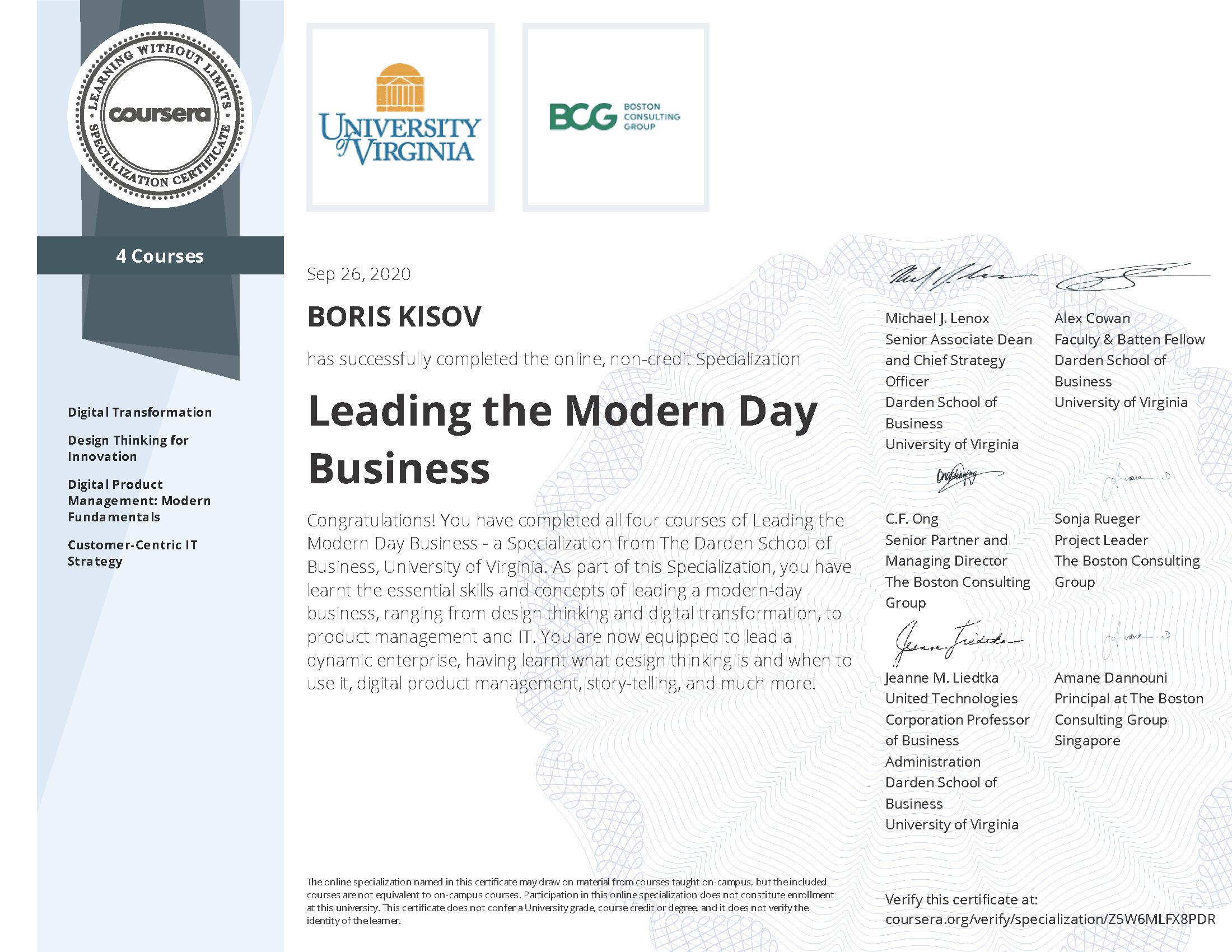 Specialization "LEADING THE MODERN DAY BUSINESS"
"LEADING THE MODERN DAY BUSINESS"– Certificate
DARDEN SCHOOL OF BUSINESS, University of Virginia, BCG – Specialization "LEADING THE MODERN DAY BUSINESS"
Course Certificates Completed
Digital Transformation

Design Thinking for Innovation

Digital Product Management: Modern Fundamentals

Customer-Centric IT Strategy
About this specialization
Today's business is a dynamic company and its leadership requires a conglomeration of core skills ranging from design thinking and digital transformation to product and IT management.
This specialization covers these important skills and concepts, as well as their implications for businesses and companies. It begins with digital transformation, developed at the University of Virginia Darden School of Business and led by Darden's senior faculty and global management experts at the Boston Consulting Group. It then introduces design thinking, which provides you with the tools to think outside of the box and unlock creative possibilities at all levels of any organization.
Then the specialization changes course to what it takes to become a product specialist in today's digital age, which is a completely different game than product management was in the past. Finally, as companies are investing heavily in IT now more than ever, the last part of this specialization will cover the core challenges of enterprise IT and how to solve them through disciplined use of design thinking.
Applied learning project
Students will move from using BCG's digital transformation framework to providing practical guides for successfully managing your product to rapidly prototyping strategically aligned processes for implementation in your IT infrastructure. Specifically, you will learn how to iteratively prototype and test solutions to make sure they not only don't break, but deliver great results, and you will also learn how to conduct customer searches, idea testing / validation, early development, and business model. design.
LEARN
How to utilize BCG's digital transformation framework as a "how-to" for digitizing your organization
What design thinking is and when to use it
Instrument relevant, actionable analytics into your product program
How to take the many ideas you generate and determine which ones are likely to produce specific, desired outcomes
DARDEN SCHOOL OF BUSINESS, University of Virginia, BCG
Since 1965, the University of California, Irvine has combined the strengths of a major research university with the bounty of an incomparable Southern California location. UCI's unyielding commitment to rigorous academics, cutting-edge research, and leadership and character development makes the campus a driving force for innovation and discovery that serves our local, national and global communities in many ways.
Boris Kisov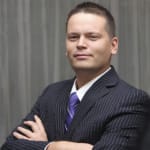 Innovation, IT & Management
10+ years of initiating and delivering sustained results and effective change for companies across a wide range of industries including
innovation, enterprise software, digital marketing, start-ups, advertising technology, e-commerce and government.