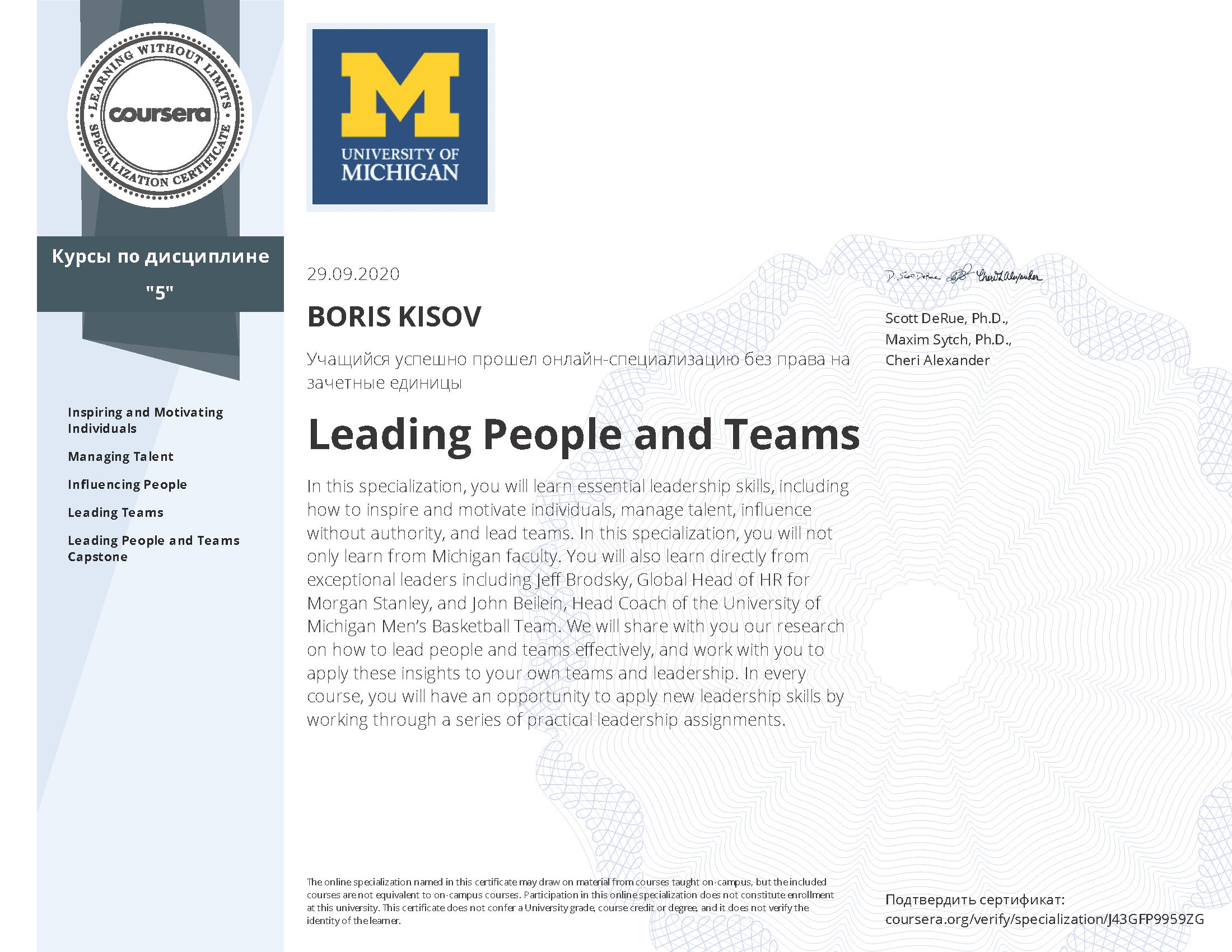 Specialization "LEADING PEOPLE AND TEAMS"
"LEADING PEOPLE AND TEAMS"- Certificate
ROSS SCHOOL OF BUSINESS, University of Michigan – Specialization "LEADING PEOPLE AND TEAMS"
Course Certificates Completed
Inspiring and Motivating Individuals

Leading People and Teams Capstone

Managing Talent

Leading Teams

Influencing People
About this specialization
In this specialization, you will learn essential leadership skills, including how to inspire and motivate people, manage talent, influence without authority, and lead teams. In this specialization, you will study not only at Michigan College. You will also learn directly from such distinguished leaders as Jeff Brodsky, Morgan Stanley's Chief of Human Resources, and John Baylein, Head Coach of the University of Michigan men's basketball team. We will share with you our research on how to effectively lead people and teams, and we will work with you to apply these ideas to your own teams and leadership. In each course, you will have the opportunity to apply new leadership skills by completing a series of practical leadership assignments. In addition, this diploma will allow you to work on the leadership challenges faced by top executives of top Fortune 500 companies and receive feedback on their ideas and solutions.
LEARN
Create and communicate your vision as a leader
Manage talent to improve employee performance, development, and retention
Use the Michigan Model of Leadership to define organizational goals
Create a high-quality team charter that enhances team performance
ROSS SCHOOL OF BUSINESS, University of Michigan
The mission of the University of Michigan is to serve the people of Michigan and the world through preeminence in creating, communicating, preserving and applying knowledge, art, and academic values, and in developing leaders and citizens who will challenge the present and enrich the future.
Boris Kisov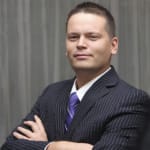 Innovation, IT & Management
10+ years of initiating and delivering sustained results and effective change for companies across a wide range of industries including
innovation, enterprise software, digital marketing, start-ups, advertising technology, e-commerce and government.