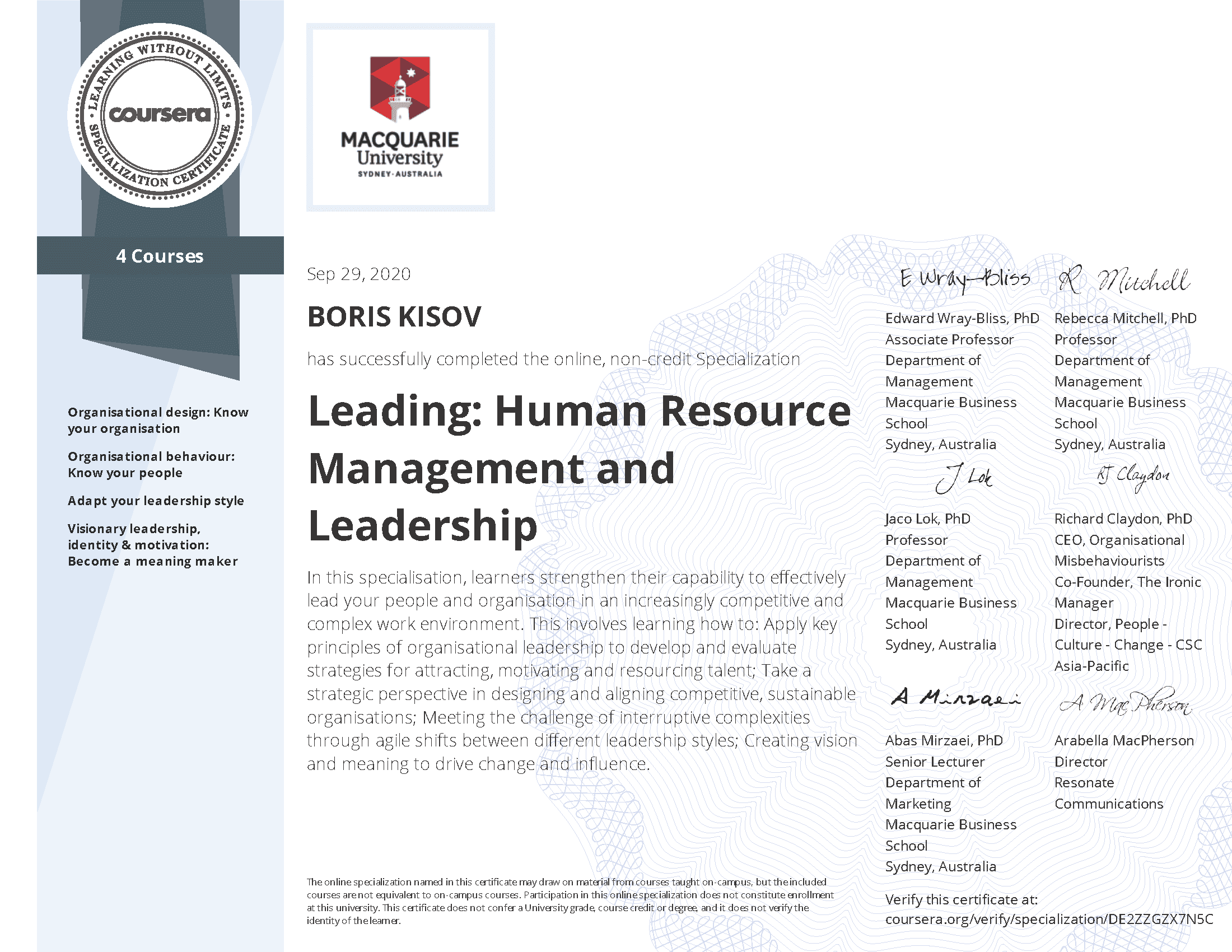 Specialization "LEADING: Human Resource MANAGEMENT and LEADERSHIP"
Specialization "LEADING: Human Resource MANAGEMENT and LEADERSHIP". – Certificate
Part of the Global Master of Business Administration (Global MBA) degree. Ranked #1 in Australia and #6 globally
MACQUARIE GRADUATE SCHOOL OF MANAGEMENT – Specialization "LEADING: Human Resource MANAGEMENT and LEADERSHIP".
Course Certificates Completed
Organisational design: Know your organisation

Organisational behaviour: Know your people

Adapt your leadership style

Visionary leadership, identity & motivation: Become a meaning maker
About this specialization
Become a flexible leader willing to face challenges in the workplace. This specialization will equip you with leadership and navigation skills in the ever-changing global environment in which we currently operate. Through four thematic courses, you will learn how to motivate employees to do meaningful work (become a creator of meaning); better let your organization achieve its strategic objectives (Know your organization); Take advantage of the diversity of your team and take advantage of teamwork to innovate and improve the productivity of your organization (know your people) and strengthen your personal leadership skills (adapt your leadership style).
Applied learning project
In each module, you will learn how organizational science can help solve organizational and leadership problems in real life. Based on these reviews, you will learn to design and evaluate strategies that can help you, your people, and your organization adapt, compete, and succeed.
LEARN
Analyse how to motivate staff with meaningful work
Understand how to enable your organisation to deliver on its strategic objectives
Examine the ways you can harness your team's diversity and use teamwork to innovate and increase your organisation's output
Evaluate leadership theories and develop your personal leadership skills
Macquarie University
Part of the Global Master of Business Administration (Global MBA) degree. Ranked #1 in Australia and #6 globally.
Macquarie is ranked among the top one per cent of universities in the world, and with a 5-star QS rating, we are recognised for producing graduates who are among the most sought-after professionals in the world. Since our foundation 54 years ago, we have aspired to be a different type of university: one focused on fostering collaboration between students, academics, industry and society.
Boris Kisov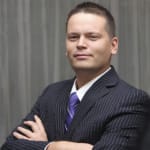 Innovation, IT & Management
10+ years of initiating and delivering sustained results and effective change for companies across a wide range of industries including
innovation, enterprise software, digital marketing, start-ups, advertising technology, e-commerce and government.