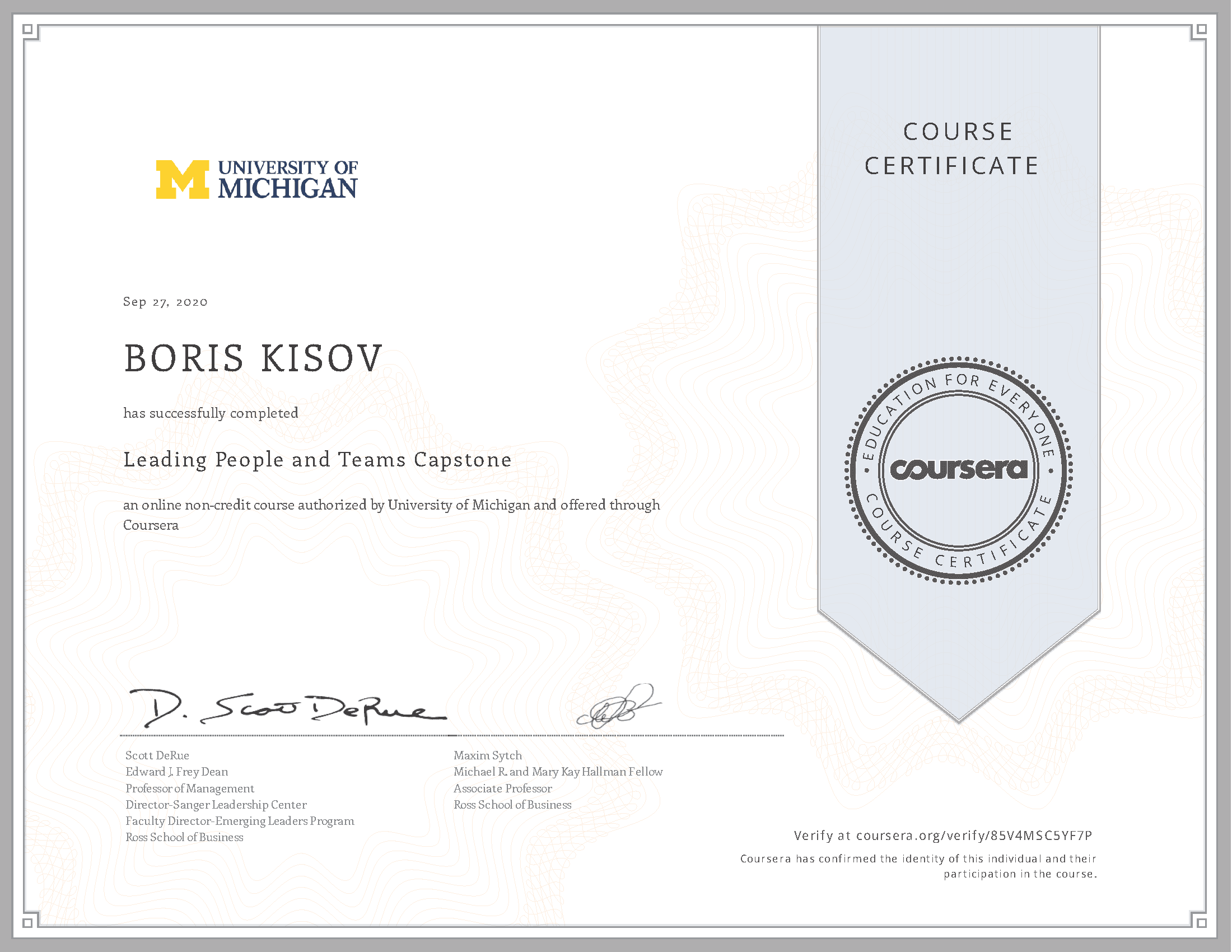 Leading People and Teams Capstone
Leading People and Teams Capstone – Certificate
ROSS SCHOOL OF BUSINESS, University of Michigan – Leading People and Teams Capstone  
About this course
The final project will have three options and you will complete one of them as part of the course.
The first option is to work with senior leaders to help them solve their most pressing leadership problems. Two (2) senior executives from leading organizations will provide detailed descriptions of current leadership challenges currently facing in their organizations. The challenges will be real and relevant. You will be asked to help leaders think about the best way to address and resolve related leadership challenges. Specifically, you will be tasked with writing a memorandum for one of your leaders outlining their recommendations on how best to address the leadership challenge. To provide effective advice and guidance, you should use the course concepts and frameworks to (a) diagnose critical problems and then (b) develop a consistent set of solutions or recommendations. The checklists will be evaluated based on how effectively you use the course concepts to diagnose the problem and how well you associate the suggested solutions with the diagnosis. The best suggestions will be sent to the leaders for their review, with each leader providing feedback, which will then be shared with the whole class to advance everyone's learning.
The second option is to identify your own leadership problem (eg at work, at school, in your local community). You must be directly involved in the task and the task must correspond to at least one subject of the specialization. You will develop a presentation using the concepts and framework of the course to (a) diagnose the underlying leaders,hip problem and barriers to effective performance, and then (b) develop a coherent set of solutions or recommendations for your own leadership problem.
The third option asks you to interview a manager of your choice. In this interview, you will ask questions about the problems this leader faces in relation to the leadership of people and teams, and the methods the leader uses to solve her problems. In your written statement, you will use the course concepts to systematize the major leadership challenges a leader faces, highlight the strategies and practices the leader uses to address major leadership issues, and then evaluate the effectiveness of leadership methods related to the leadership. people and teams.
ROSS SCHOOL OF BUSINESS, University of Michigan
Part of the Global Master of Business Administration (Global MBA) degree. Ranked #1 in Australia and #6 globally.
Macquarie is ranked among the top one percent of universities in the world, and with a 5-star QS rating, we are recognized for producing graduates who are among the most sought-after professionals in the world. Since our foundation 54 years ago, we have aspired to be a different type of university: one focused on fostering collaboration between students, academics, industry, and society.
Boris Kisov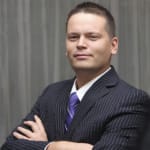 Innovation, IT & Management
10+ years of initiating and delivering sustained results and effective change for companies across a wide range of industries including
innovation, enterprise software, digital marketing, start-ups, advertising technology, e-commerce and government.