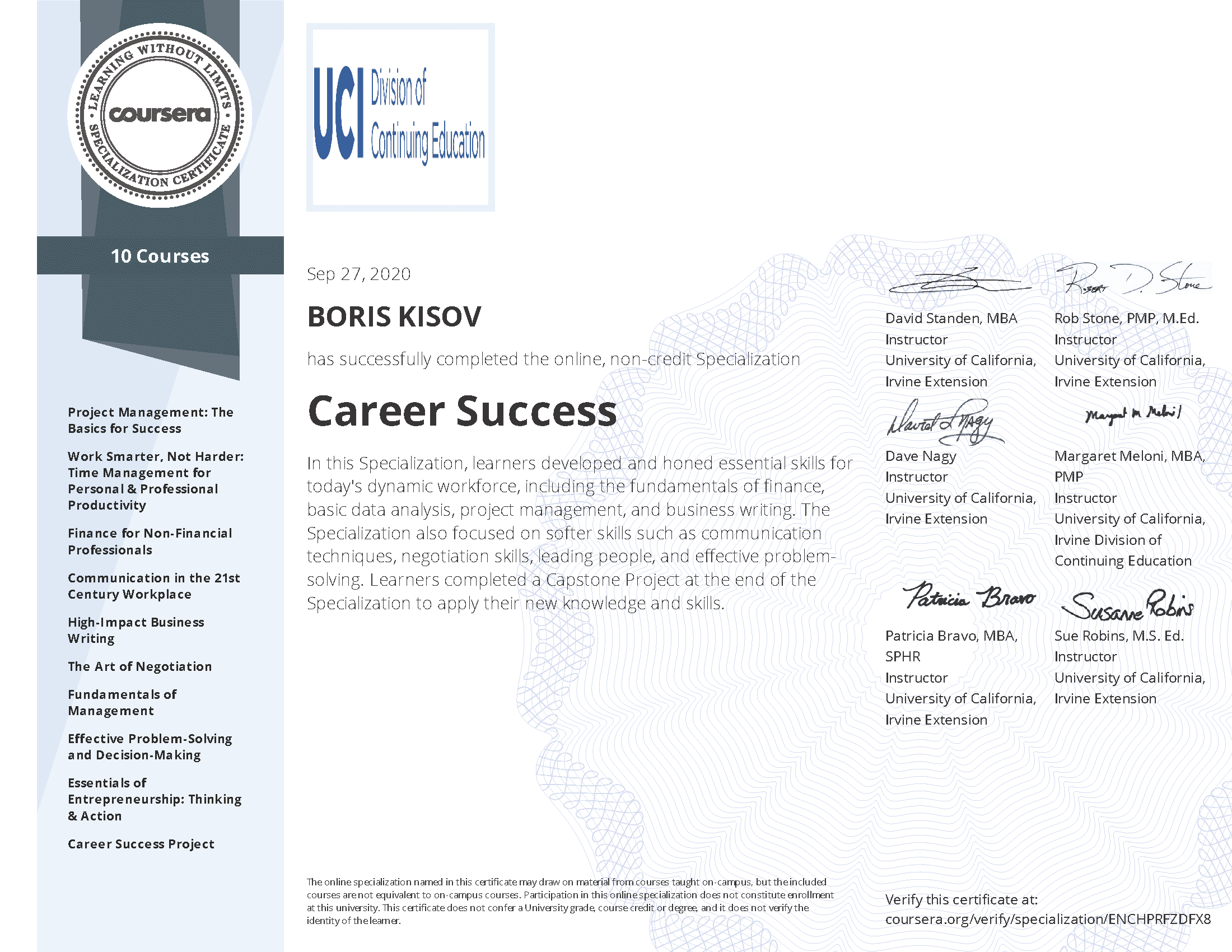 Specialization: CAREER SUCCESS
Specialization "CAREER SUCCESS» Certificate
UNIVERSITY OF CALIFORNIA, IRVINE – Specialization: CAREER SUCCESS
Course Certificates Completed
Project Management: The Basics for Success
The Art of Negotiation
Fundamentals of Management
Work Smarter, Not Harder: Time Management for Personal & Professional Productivity
Career Success Project
Finance for Non-Financial Professionals
Communication in the 21st Century Workplace
Essentials of Entrepreneurship: Thinking & Action
High-Impact Business Writing
Effective Problem-Solving and Decision-Making
LEARN
Apply management principles and problem-solving skills
Communicate with co-workers and produce clear and concise writing
Manage your time and plan projects effectively
Understand finance and use winning negotiation strategies
About this specialization
This series of courses will help you mold, develop, and hone the basic skills you need to improve your employability and advancement in today's dynamic workforce. Courses in this specialization can be taken in any order. Each course can also be taken independently. The specialization culminates in a final project that will give you the opportunity to integrate and apply the skills learned in the courses to your individual and organizational needs.
Applied learning project
The goal of the Capstone Project in the Career Success Specialization is to apply the techniques and techniques you learned in a series of first-hand courses so that you can communicate your value to potential employers. You will focus your communication, management, negotiation, problem solving, business writing, time management, finance, entrepreneurship, and project management skills on a project that demonstrates your readiness for a career.
University of California, Irvine
Since 1965, the University of California, Irvine has combined the strengths of a major research university with the bounty of an incomparable Southern California location. UCI's unyielding commitment to rigorous academics, cutting-edge research, and leadership and character development makes the campus a driving force for innovation and discovery that serves our local, national and global communities in many ways.
Boris Kisov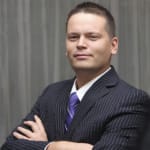 Innovation, IT & Management
10+ years of initiating and delivering sustained results and effective change for companies across a wide range of industries including
innovation, enterprise software, digital marketing, start-ups, advertising technology, e-commerce and government.