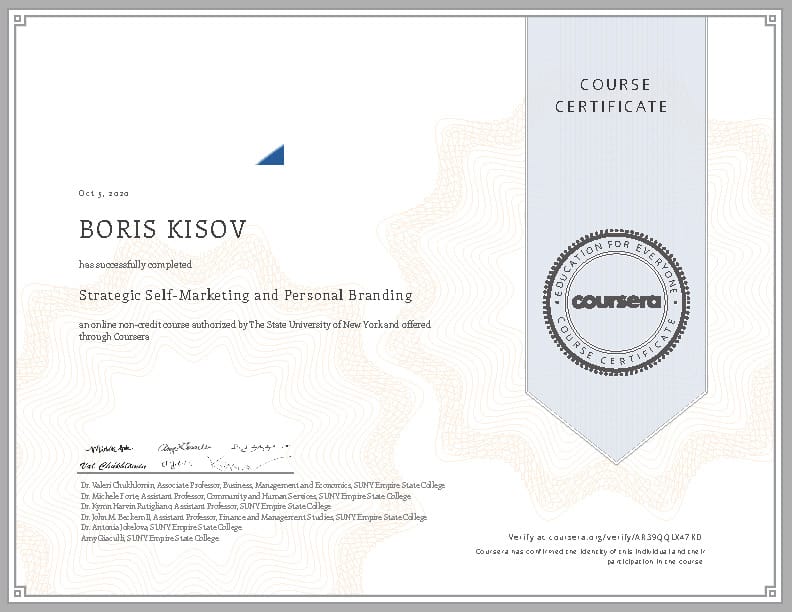 Strategic Self-Marketing and Personal Branding
Strategic Self-Marketing and Personal Branding – Certificate
The State University of New York – Strategic Self-Marketing and Personal Branding
About this course
In this course, you will learn to use personal branding and strategic marketing techniques to create, enhance, and promote your professional image. As "your own CEO" (P. Drucker), you'll learn how to use relationship marketing, network marketing, and experience management to showcase your skills to potential employers, colleagues, executives, and other stakeholders. This course will help you:
– Realize the importance of marketing orientation and building a professional brand for your career development; use marketing communication strategies for self-promotion;
– Carry out strategic marketing planning to develop your career and participate in creating your own strategic marketing plan;
– develop strategies to manage your professional reputation; start building your personal brand and plan the strategic steps of your personal brand;
– Create personal brand statements and integrate social media into your career branding;
– Enhance your self-management information system to systematically collect and analyze data related to self-marketing and personal branding, select the appropriate tools and apply them for a complete, accurate, fact-based and data-driven self-assessment of your personal data and auto marketing. branding skills;
– Design and implement an effective tool to showcase your artifacts and monitor your marketing communication strategies (Demo) and a realistic performance metric to measure your career brand building activities (Career Brand Equity Builder).
Boris Kisov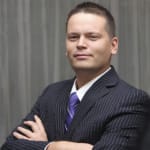 Innovation, IT & Management
10+ years of initiating and delivering sustained results and effective change for companies across a wide range of industries including
innovation, enterprise software, digital marketing, start-ups, advertising technology, e-commerce and government.