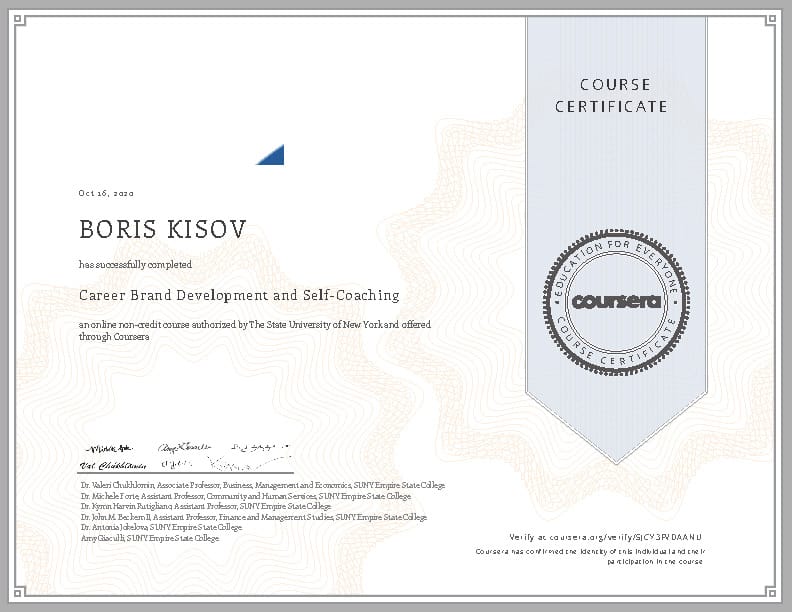 Career Brand Development and Self-Coaching
Career Brand Development and Self-Coaching – Certificate
The State University of New York – Career Brand Development
About this course
In this course, you will develop and strengthen the functional component of your career brand. As "your own CEO" (P. Drucker), you will learn to use strategic management models and techniques to expand your portfolio of skills. You will learn how to increase your human capital by developing and documenting in-demand market skills. After completing this course, you will be able to:
– Implement business strategies, models and tools, such as benchmarking and SWOT analysis to identify and analyze your competitive advantage and fill competency gaps in the context of skills-based competitive job selection;
– Understand evidence-based and evidence-based methodologies and techniques to assess skills;
– Select the appropriate assessment tools and apply them for a comprehensive, accurate, evidence-based and data-driven self-assessment of your transferable skills;
– Create your critical competency profile (Self-Assessment Grid for Assessment, or SAGE) and use it as an effective tool for an objective 360-degree self-assessment of your competitive advantage and proficiency gaps;
– Create and use an effective tool to organize, direct and monitor your skills development activities (Skills Development Panel or Master Builder);
– Develop an effective tool ("T-portfolio") to collect and organize samples of standards, best practices, tools and evaluation methods in the chosen field;
– Effectively organize your self-government information system to systematically collect and analyze job-related data, assess and assess required competencies and skills, develop and implement self-improvement plans, and track your progress;
– Develop and implement a realistic performance metric for your professional development activities ("Current market value of your work");
– Participate in self-study to maintain active self-development.
The State University of New York
The State University of New York, with 64 unique institutions, is the largest comprehensive system of higher education in the United States. Educating nearly 468,000 students in more than 7,500 degree and certificate programs both on campus and online, SUNY has nearly 3 million alumni around the globe.
Boris Kisov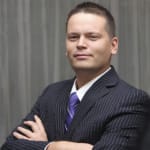 Innovation, IT & Management
10+ years of initiating and delivering sustained results and effective change for companies across a wide range of industries including
innovation, enterprise software, digital marketing, start-ups, advertising technology, e-commerce and government.