Building AI Powered Chatbots Without Programming
Building AI Powered Chatbots Without Programming – Certificate
IBM – Building AI Powered Chatbots Without Programming
About this Course
This course will teach you how to create useful chatbots without the need to write any code.
Leveraging IBM Watson's Natural Language Processing capabilities, you'll learn how to plan, implement, test, and deploy chatbots that delight your users, rather than frustrate them. True to our promise of not requiring any code, you'll learn how to visually create chatbots with Watson Assistant (formerly Watson Conversation) and how to deploy them on your own website through a handy WordPress plugin. Don't have a website? No worries, one will be provided to you. Chatbots are a hot topic in our industry and are about to go big. New jobs requiring this specific skill are being added every day, consultants demand premium rates, and the interest in chatbots is quickly exploding. Gartner predicts that by 2020, 85% of customer interactions with the enterprise will be through automated means (that's chatbots and related technologies). Here is your chance to learn this highly in demand set of skills with a gentle introduction to the topic that leaves no stone unturned.
IBM
IBM offers a wide range of technology and consulting services; a broad portfolio of middleware for collaboration, predictive analytics, software development and systems management; and the world's most advanced servers and supercomputers. Utilizing its business consulting, technology and R&D expertise, IBM helps clients become "smarter" as the planet becomes more digitally interconnected. IBM invests more than $6 billion a year in R&D, just completing its 21st year of patent leadership. IBM Research has received recognition beyond any commercial technology research organization and is home to 5 Nobel Laureates, 9 US National Medals of Technology, 5 US National Medals of Science, 6 Turing Awards, and 10 Inductees in US Inventors Hall of Fame.
Boris Kisov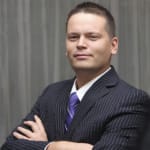 Innovation, IT & Management
10+ years of initiating and delivering sustained results and effective change for companies across a wide range of industries including
innovation, enterprise software, digital marketing, start-ups, advertising technology, e-commerce and government.